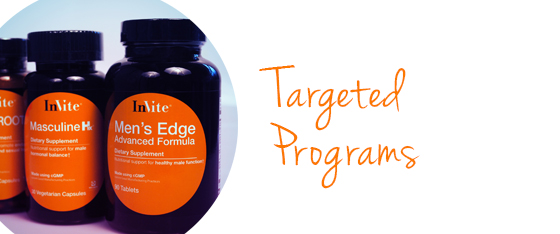 InVite® Health specializes in Targeted Nutritional Programs; combining the most supportive constituents from nutritional families into programs targeted for your specific health needs - from energy to sleep and everything in between.
Formulated with raw materials used in the latest research studies from the most prestigious institutions and universities, InVite®'s team of nutritionists, pharmacists, and naturopathic doctors ensure the amount of each ingredient in each product mirrors the scientific data. Targeted Nutritional Programs like InVite®'s Joint Health Program for joint support or Blood Sugar Program for support of blood sugar levels within a normal range take the confusion out of the vitamin and supplement selection process.
InVite®'s Targeted Nutritional Programs are created using the latest technology to ensure the best possible delivery system for each individual nutrient. Liquid-filled Vegetarian Capsules ensure freshness, maximum bioavailability and absorption of each ingredient. InVite®'s team of healthcare professionals are consistently reviewing clinical studies on how nutrients work together in your body to optimize their benefits, avoid interactions, and to test for purity, consistency, and freshness.
• Non-GMO Dietary Supplements
• Doctor and Pharmacist Formulated and Recommended
• Following strict cGMP (current Good Manufacturing Practices)
• Manufactured using state-of-the-art systems (Vcaps® & Licaps®), employing advanced delivery methods for superior absorption
For great discounts, a superb assortment of top-grade heart health supplements, nutraceuticals and nutritional supplements, and access to our professional nutritionists, look no further – great health starts right here at InVite® Health. To ask a question or to purchase your Targeted Nutritional Programs today, call us at (800) 632-0541 or click here to find a store near you!