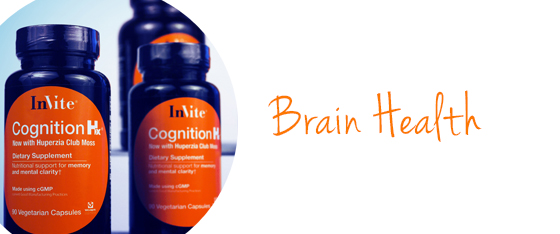 Brain health supplements have a great beneficial effect on the frontal lobe portion of the brain, which is involved in the higher cognitive functions such as problem solving, planning and organizing. As we age, there is a decrease in the size of the frontal lobe, which is accompanied by a reduction in proper blood flow throughout this region. What's more, the level of certain important neurotransmitters in the brain begins to decline throughout the aging process. The ability for the brain to heal its own tissues declines as well, and the energy-producing structures in the brain cells become older and more weathered due to over use over the years. This results in lower brain functions and decreased cognitive abilities, which may get in the way of everyday routine as well as your overall health and well-being.
InVite® Health offers a great selection of various brain health supplements for excellent mental clarity, memory function, cognitive ability, and focus throughout your whole life, particularly throughout the aging process. Our effective, natural brain health supplements support energy production, the healing process, immunity, and thought patterns, helping to turn back the clock on an aging brain. If you need help creating the most effective protocol of brain supplements for you, speak with one of our professional nutrition specialists to create the best regimen of brain vitamins for your personal health and wellness needs. They're available online, over the phone and at each of our store locations.
• Non-GMO Dietary Supplements
• Doctor and Pharmacist Formulated and Recommended
• Following strict cGMP (current Good Manufacturing Practices)
• Manufactured using state-of-the-art systems (Vcaps® & Licaps®), employing advanced delivery methods for superior absorption
For great discounts, a superb assortment of top-grade brain supplements, nutraceuticals and nutritional supplements, and access to our professional nutritionists, look no further – great health starts right here at InVite® Health. To ask a question or to purchase your brain health supplements products today, call us at (800) 632-0541 or click here to find a store near you!
Amino Acid, Thiol Supplement Acetyl L-Carnitine (ALCAR) is an absorbable form of the amino acid known as L-Carnitine, a naturally occurring amino acid that is synthesized in the liver and kidney. Like L-Carnitine, ALCAR produces ...

More Info

$54.95

Phytonutrient Supplement Resveratrol Hx® supports metabolism and may help improve lean body mass in overweight individuals, acting as a safety net for their health. Resveratrol recycles cellular power plants in aging individuals, ...

More Info

$54.95

Herbal Vitamin Supplement Green Tea's powerful catechins, with the addition of Vitamin C, provides cellular antioxidant protection and may help improve energy and endurance. When used along with exercise, green tea may offer ...

More Info

$31.95

Vitamin, Mineral, Polyphenol Supplement Feel the difference with InVite® Multivitamins, as many of our customers report having improved energy, stamina and concentration when switching to our brand. InVite®'s ...

More Info

$82.95

Phospholipid Supplement Sixty percent (60%) of your brain is made of lipids (fats). Phosphatidylserine is one of these fats that naturally occurs in your brain. It is very important for the brain, specifically for memory and ...

More Info

$57.95

Fish Oil Supplement Derived from the tissues of cold-water oily fish, fish oil is the best known source of Omega-3 fatty acids, eicosapentaenoic acid (EPA) and docosahexaenoic acid (DHA). Omega-3s are considered "essential fatty ...

More Info

$35.95

Vitamin E Supplement Tocotrienol Pine Bark Extract may support stamina during physical activity. It may also support the health of the prostate and breast tissue. Tocotrienol Pine Bark Extract supports respiratory tract health ...

More Info

$52.95

Amino Acid, Phosphatide, Herbal Supplement Cognition Hx® provides nutritional support for brain health with several key ingredients that boost brain energy, metabolism, activity and function. This formula helps boost memory ...

More Info

$51.95

Mineral, Amino Acid, Herb Supplement Cardio Hx® from InVite® Health is a simple but precise formula that supports cardiovascular health and cardiac function. Cardio Hx® supplies three key ingredients to promote ...

More Info

$37.95

Polyphenol Supplement In human clinical trials, Resveratrol safely supports brain health and memory functions. Resveratrol may help support blood sugar already within a normal range and may support the health of the pancreas. ...

More Info

$27.95

Carotenoid - Omega-3 Fatty Acid Supplement Lutein and Zeaxanthin are yellow carotenoids found in vegetables that are referred to as macular pigments because the eye concentrates them in this region. The macula of the eye helps ...

More Info

Vitamin Supplement Vitamin D has become one of the most highly recommended dietary supplements over the last few years by healthcare professionals. Vitamin D is not technically an essential vitamin, since the body naturally ...

More Info

$18.95

L-Theanine is a non-protein building amino acid, derived from green tea. It safely promotes relaxation and natural stress relief without the side effects commonly seen with other relaxing agents, such as drowsiness and dullness. ...

More Info

$34.95

Vitamin Supplement InVite® is proud to offer the most potent, safe and effective Vitamin K2 Complex on the market. Vitamin K2 is generally found in fermented foods and is important for bone and brain health, as it activates ...

More Info

$18.95

Mineral, Amino Acid Supplement InVite®'s Alkalizer Powder supplies Potassium and Magnesium in forms that support Alkalinity and also supports energy production. This powerful powder formula may support mood, brain health, ...

More Info

$51.95

Vitamin Supplement Vitamin D has become one of the most highly recommended dietary supplements over the last few years by healthcare professionals. Vitamin D is not technically an essential vitamin, since the body naturally ...

More Info

$25.95

Dipeptide, Flavonoid, Vitamin Supplement L-Carnosine Plus Hx® is a nutrient complex made from two smaller amino acids, beta alanine and histidine. Some studies have shown these components to have positive biological effects ...

More Info

$57.95

Vitamin Supplement InVite® Health's B-Complex 100 Vitamin delivers a rich supply of each important vitamin in the B-Complex per serving. The Vitamin B-Complex is comprised of all the essential water-soluble vitamins, ...

More Info

$20.95

Flaxseed Supplement Flaxseeds are one of the world's healthiest foods. InVite®'s domestically-grown organic flax seed powder supplies a number of essential nutritional ingredients. Flaxseeds are a source of lignans that ...

More Info

$24.95

Mineral Supplement Magnesium Citrate is a crucial mineral your body needs in order to maintain healthy blood pressure and blood sugar levels already within normal range. It also assists in regulation of a healthy heart rhythm. ...

More Info

$16.95

Amino Acid Supplement S-Adenomethionine, or SAMe, is a naturally-occurring compound found in nearly every tissue of the body. SAMe offers nutritional support for proper mental function and balanced mood due to its serotonin ...

More Info

$44.95

Amino Acid Supplement 5-HTP (5-Hydroxytryptophan) is an amino acid that contributes to healthy serotonin activity in the brain during the day. By supporting and regulating your brain's serotonin supply during the daytime ...

More Info

$21.95

Phytonutrient Supplement Vinpocetine is derived from Vincamine, an alkaloid constituent of the periwinkle plant (Vinca minor). InVite®'s Vinpocetine supplement is a blended extract that has been shown to provide nutritional ...

More Info

$26.95

Vitamin Supplement Vitamin C is a water-soluble vitamin, meaning that your body does not store it. You must obtain this powerful antioxidant from food, including citrus fruits, brocolli, and tomatoes or a Vitamin C supplement ...

More Info

$16.95

Vitamin Supplement Recent studies show that a sufficient level of Vitamin B12 are needed by the body to reduce homocysteine levels, protect the heart and arteries, support the weight of brain matter, promote mental energy ...

More Info

$17.95

ALCAR and ALA are two nutrients naturally formed in the human body required for energy and metabolism. ALCAR (Acetyl-L-Carnitine) and ALA (Alpha-Lipoic Acid) help unblock clogged energy pathways, which may improve metabolism, ...

More Info

Vitamin Supplement InVite® Health's B-Complex 50 Vitamin delivers a rich supply of each important vitamin in the B-Complex per serving. The Vitamin B-Complex is comprised of all the essential water-soluble vitamins, ...

More Info

$15.95

Vitamin Supplement Recent studies show that a sufficient level of Vitamin B12 are needed by the body to reduce homocysteine levels, protect the heart and arteries, support the weight of brain matter, promote mental energy ...

More Info

$8.95

Fish Oil Supplement Docosahexaenoic Acid, or DHA, is one of the essential Omega-3 fatty acids that offer great support for the terrain and tissue of the brain. Derived from fish oil, DHA is essential for the brain's growth ...

More Info

$29.95

Vitamin Supplement Vitamin C is a water-soluble vitamin, meaning that your body does not store it. You must obtain this powerful antioxidant from food, including citrus fruits, brocolli, and tomatoes or a Vitamin C supplement ...

More Info

$14.95

Amino Acid Supplement L-Glutamine is the most abundant amino acid in the human body. Amino acids are building blocks for organs and tissues. L-Glutamine becomes conditionally essential during times of extreme stress, such as ...

More Info

$38.95

Tinnitus is variously described as a persistent whooshing, swishing, or ringing in the ears. Research shows that particular nutrients support the health of the ears' anatomical structures.* ALCAR w/ ALA Our Product Development ...

More Info

Vitamin Supplement Folic acid, also known as Vitamin B9, is a water-soluble member of the B-Complex family, which has to be replenished daily. It is found in vitamin supplements, fortified foods, green leafy vegetables, mushrooms, ...

More Info

$6.95

Vitamin Supplement Folic acid, also known as Vitamin B9, is a water-soluble member of the B-Complex family, which has to be replenished daily. It is found in vitamin supplements, fortified foods, green leafy vegetables, mushrooms, ...

More Info

$5.95

#ulProgramContains li {margin-bottom:0;} The Healthy Aging Program Contains: ATP Hx® Resveratrol Hx® ATP Hx® ATP, Adenosine Triphosphate, is the currency for energy converted from our food calories in ...

More Info